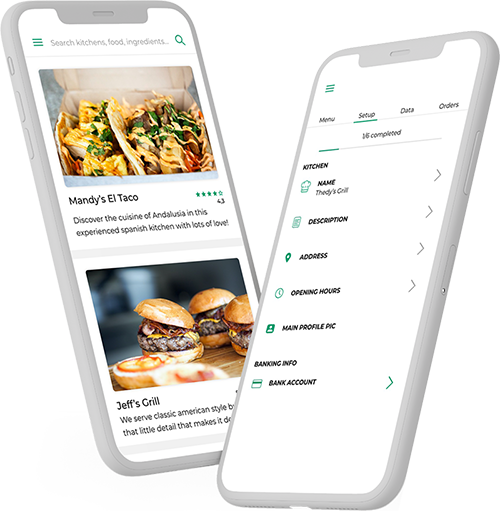 Connecting people through home cooking.
YouFeed is an online marketplace that enables you to buy, cook and sell home-cooking. Our mission is to change the way we have access to home-cooked food by connecting people who have a passion for cooking with those who enjoy and crave dishes that are more authentic, fresh and wholesome.
Discover authentic dishes that are healthier, unique and savory from all corners of the world, right in your hometown! YouFeed enables you to connect with talented home cooks and find food in almost any category that you would otherwise not find in a restaurant.
With YouFeed, you can sell your cooking without physically owning a restaurant and spending money on rent, overhead expenses, and employees. You can make food in your own kitchen and eliminate many of the costs and risks that come with opening and running a restaurant. You are your own boss in the kitchen, you set up your own menu, prices, schedule and terms!
The YouFeed app currently serves only residents in Wyoming. All our home cooks go through a vetting process and must operate from a safe, clean kitchen in Wyoming.
To change the way we have access
to fresh, authentic, homemade food.
To enable people to buy, cook and sell homemade food by connecting talented home cooks with those who love and crave dishes that are more authentic, fresh and wholesome.
Since I was a teenager, I loved cooking. I knew I wanted to be a chef and had many ideas for the future when it came to cooking. I used to experiment making food by creating my own recipes and mixing together different spices to add flavor to every dish which often impressed others. My dream was to bring together food from different cultures and open up restaurants all around the world.  
One day, I brought up my cooking aspirations to my parents. I told them I wanted to apply to culinary school and become a world-renowned chef. My parents looked at me in shock and shut down my idea pretty quickly. Disappointed, I knew it would be hard to pursue my passion for culinary school without their support.
Fortunately, I also developed a passion for medicine and soon applied to medical school. Although I never regretted my decision of becoming a doctor, there was always a "what if" in the back of my mind. What if I didn't listen to my parents and went on to pursue my dream of becoming a chef?
Many years flew by and after my residency training, I moved to a small city in Connecticut. Having Iranian parents, I loved Persian food and to my surprise, there was not a single Persian restaurant in my new city. I found this interesting given there were nearly five thousand Iranians living there.
I started thinking, why hasn't anyone thought of opening up a Persian restaurant here? I began doing research and soon realized that the majority of restaurant owners either fail completely or are not able to maintain a substantial profit to stay in business long-term. Looking into the reasons why, I found that one of the biggest reasons restaurants fail is the high expenses that come with running the business, such as paying rent, employee salaries, insurance, food, vendors, marketing and  more. 
This was when the idea of YouFeed was born. I realized there was an opportunity to enable talented home cooks to sell cook and sell food from their own kitchens by eliminating the need of owning a physical restaurant. In addition, the platform would give people like me who craved Persian food access to try authentic, ethnic cuisines from different cultures in their hometown.
The truth is, many of us know how to cook delicious food at home or know someone that does. However, most of us either don't have the time, the patience, nor the resources to start a restaurant. It requires not only lots of money, but business and strategic knowledge, operative management, and marketing skills, among many other things. My goal is to remove all the barriers in opening a restaurant and allow those who love cooking to share their amazing dishes with their neighbors and local community while making extra income.
Since I was never able to become a culinary chef myself, I am hoping that with YouFeed, I can still fulfill that dream by connecting people who have a strong passion for cooking with those who seek out and appreciate delicious and authentic cuisine that they may not find in restaurants. I know one thing for sure: had YouFeed been around when I was younger, I would have been the first to sign up as a YouFeed chef!
I am excited to see where YouFeed takes us and how it will change the way we have access to home cooking.
Raman Mehrzad, MD, MHL, MBA
Founder and CEO 
About YouFeed
YouFeed is an online marketplace that enables you to buy and sell home cooking. Our mission is to change the way people have access to food by connecting local, approved home cooks with people who love and crave authentic, homemade cuisine. The YouFeed app is available for download in the App Store and Google Play.