Meet one of our newest and most passionate home cooks at YouFeed, Stormi Santiago, a mother of five – three boys and two girls – who, after going through some tough times in her life, including being homeless, has now found a way to turn her passion of cooking into a business.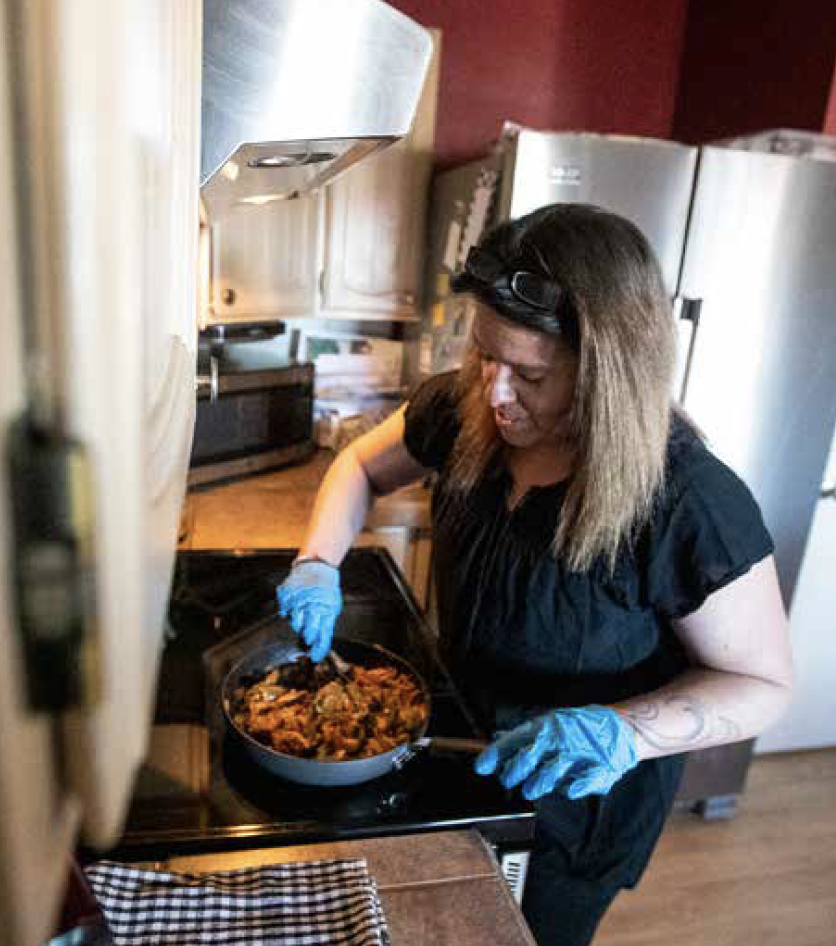 As a heavy equipment operator back in the day, Stormi's heart always belonged to the kitchen. Stormi, having taught herself all the tips and tricks, has cooked her whole life and now finally, she can turn her passion for home cooked meals into a fruitful business.
From Homeless to YouFeed Home Chef
Stormi was born in Gillette, WY, and grew up in Long Island, NY. Even though she had her eldest son at 17, Stormi never really lost her free spirit, but her eagerness to explore new cultures and love for cooking only grew stronger.
"I always cook with love because when you have good food, people smile and laugh", she says.
Despite her never-ceasing positivity, the mother of five from Gillette has had her fair share of ups and downs. Stormi learned a lot about herself while backpacking for a few years and going through homelessness in view of the global pandemic.
Also when she found out one of her children was non-verbal autistic, Stormi saw it as yet another challenge in her life that would give her even more strength and perseverance.
All the things she has so far endured have made Stormi tougher, yet humble and excited to give back to the community as much as she can.
Stormi now uses one of her strengths – cooking delicious comfort food – to build bridges between the less fortunate ones and the rest of her neighborhood because she believes that food brings people together.
"Food is the centerpiece of connection and the first step towards understanding where others come from." -Stormi
Being a master home cook, Stormi dreams of opening her own café or a food truck to make an even larger impact on the society.
That is why she felt that she finally got the push she needed when YouFeed, a mobile app that connects local home cooks with hungry neighbors, came to her city in Gillette, Wyoming.
"When I saw the YouFeed ad, everything suddenly seemed to fall into place", Stormi explains. Now, she can share her passion for cooking and add her unique twist to beloved meals, such as her signature chicken noodle soup, to unite people and make everyone feel like they belong.
For Stormi, preparing food means more than just sharing her cooking skills and satisfying the appetite of her hungry neighbors. It's about creating a community." – Stormi
"In my kitchen, you get more than just good food. You get love, friendship, and connection. It's a place where strangers become friends and friends can feel like family."
Home Kitchen based in Gillette, Wyoming
Look for "Stormi's Edge Curbside" kitchen on the YouFeed app to try out her mouth-watering stuffed crêpes – all based on the recipes Stormi learned from her Austrian grandmother. From blueberry and banana with white chocolate to roasted veggie, chicken and beef fajita crêpes, Stormi specializes in crêpes of all kinds that can be enjoyed by families for breakfast, lunch or dinner.
You can support Stormi and other dedicated home cooks based in Wyoming by ordering delicious, homemade meals via the YouFeed app, now available on the App Store and Google Play.
Read more about Stormi in a recent article by the Associated Press.